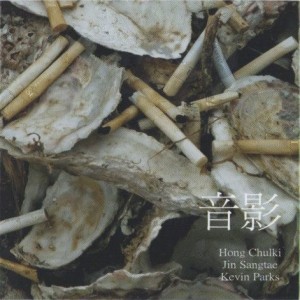 Release Date : 2011-11-01
Label : celadon records
Media Type : CD
celadon CD 002
recorded by Hong Chulki at Dotolim
mixed, edited and mastered by Kevin Parks
cover photo by Shane Bondi
Celadon, a label focused on electroacoustic and improvised music from Korea, is proud to offer its second release, a CD recording from Hong Chulki, Jin Sangtae and Kevin Parks entitled "音影" or "Eum-young" in Korean pronunciation. The title is a kind of neologism involving an alteration of the first character in "陰影," which also is pronounced "Eum-young" in Korean. The original word, "陰影," means "shades and shadows, and refers to "shades" or "chiaroscuro" in Korean. The neologism involves replacing "shades" or "陰" with "sound" or "音," which shares the same pronunciation in Korean. Just as the word "chiaroscuro" refers to the contrast of light and shade in the visual and cinematic arts, so to does 音影 suggest the contrast between sound or noise and silence in the recording, the delicate balance of allowing both sound and its absence to produce or suggest meaning in the performance and recorded work.
Hong Chulki has been involved in experimental music in Korea for well over a decade. He has worked in the noise duo, Astronoise, with his frequent and long term collaborator, Choi Joon-yong. He has also recorded and performed with the Seoul Frequency Group, a quartet that included both Hong and Choi. He has also recorded and performed with Seoul-based American expatriate, Joe Foster, and the Relay series host and Manual music label owner, Ryu Hankil. Recently, Hong has traveled and performed extensively in Europe, Japan and other parts of Asia. Jin Sangtae is the host and program director of the Dotolim experimental music series in Seoul and has frequently recorded and performed in the Relay series as well as other events. He has performed regularly in Japan and Europe and his solo CD, "Extensity of Hard Disk Drive" was released on Choi Joon-yong's Balloon and Needle label. Kevin Parks is an American guitarist, composer, and electronic musician who has lived in Korea off and on since the early nineties. This CD is his third recorded effort after two highly acclaimed collaborations with Joe Foster.
This trio collaboration was produced during several recording sessions at the Dotolim studio in 2010. Parks edited, mixed and mastered the recordings. Ryu Hankil carried out the production design, and the photograph came from former Korean resident, Shane Bondi, who captured an image of the detritus following a typical Korean drinking scene, where oyster shells become makeshift ashtrays, the organic fused with mass produced commercial product, the detritus itself suggesting or mirroring that of the sonic detritus becoming a sound source for the recording as merged with the organic sound of Parks' guitar.
Hong Chulki: turntables
Jin Sangtae: hard drives
Kevin Parks: guitar and electronics